History
Please note the timeline is currently under construction and being added to on a regular basis.
Lancashire Sea Fisheries Committee Formed
8th July 1890
The Committee consists of 63 members including 6 Councillors from Lancashire and representatives from the 12 County Boroughs including inland counties such as Bolton, Burnley, Oldham, Rochdale and Salford. In addition there are, 3 representatives of the Boards of Salmon Conservators for the 3 main rivers Kent, Lune and Dee and 23 representatives from the Board of Trade.
First Committee Meeting Held
2nd October 1890
The first committee meeting is held. Mr John Fell is appointed chairman, standing orders are drafted and approved, accounts are set up and the first precept for 3/64 of 1 penny in the pound raises £3,803 11s 2d. A subcommittee is established to draft byelaws.
The Mavis is Purchased
3rd March 1891
The committee's first patrol vessel "The Mavis" is purchased from brokers "Allen Bros" for £1,585. The exact date of purchase is not known and very little is known about the vessel beyond that she was made of steel. She was sold in 1892 for £1,400.
The John Fell Enters Service
1st August 1892
The John Fell enters service with Lancashire Sea Fisheries Committee (exact date not known). She was designed by G. L. Watson and built by Muir & Houston of Glasgow on behalf of the committee for a cost of £3,600. There are no photographs or technical specifications held within the records, however a drawing of the general layout still exists (pictured above). She was sold out of service in 1901 for £2,500.
Purchase of Ziska (John Fell "2") Agreed
1st April 1901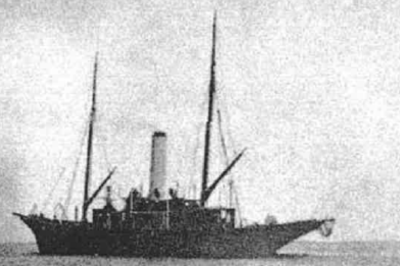 The purchase of the steamer Ziska for the sum of £8,250 is agreed, with a further £200 allocated for conversion work. Her renaming to "John Fell" was announced in the  Superintendents report of March 31st 1901. She remained in service to the committee until at least 1907, the exact date of her end of service is not known.
The James Fletcher Arrives in Fleetwood
23rd December 1907
The James Fletcher arrives in Fleetwood after being handed over to the committee on 21st December 1907. She was designed by R. A. Richardson of Liverpool and built by Messrs G. Phillip & Sons Ltd  of Dartmouth for the sum of £12,900. She served the committee for nearly 30 years and also served her country in World War One. She was sold in 1936 to T. W. Ward Ltd Sheffield and Preston for £570 in 1936.
Charles MacIver Launched
27th May 1936
Charles MacIver is launched. She was designed by Messrs. G. L. Watson & Co of Glasgow and built at the shipyard of Messrs. A. and J. Inglis of Glasgow for a total cost of £24,930. She was sold in 1951 to the Humber Conservancy Board for the sum of £10,250 including delivery and minor boiler repairs.
New Patrol Vessel Named the Thomas S. Richardson
29th March 1951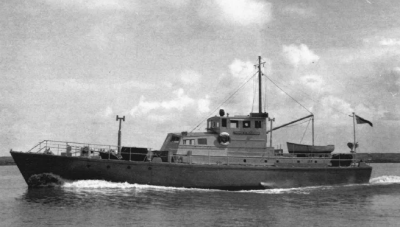 The new patrol vessel, an ex-Admiralty motor launch called the "Violanda" is named the "Thomas S. Richardson", following its purchase by the Committee in mid 1950. She would see 15 years of service before being sold in July 1966 for the sum of £4,000.
John Beardsworth Named
29th October 1959
The John Beardsworth is named by the Lord Mayor of Liverpool, Alderman Herbert N. Bewley CBE in a ceremony held at Canning Dock. Over her career she would spend 1,931 days on patrol, covering over 102,000 miles. She was sold on 29th January 1976 for the sum of £10,200.
A. Stopford Arrives at her Station
1st May 1967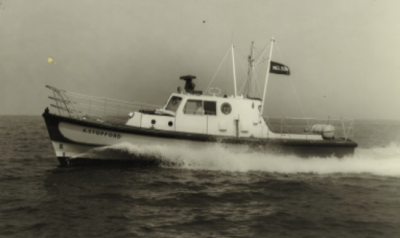 The A. Stopford arrives at her station in Pwllhelli. Reports of her performance at sea and fitness for purpose were good however after a couple of years in service she seems to have developed some vibration problems with her propellers that required attention. Her high performance engines seem to have also been a constant source of trouble. She was sold in 1974 for the sum of £14,500.
Samuel Baxter Accepted into Service
10th April 1976
The Samuel Baxter is accepted into service. Throughout her service she was plagued with many expensive maintenance problems. In 1981 it was reported that £45,000 had been spent on her in the previous 12 months. In 1983 she was sold to the highest bidder for the sum of £52,105 and became a yacht in the Caribbean.
L & W Protector Accepted by the Committee
21st March 1983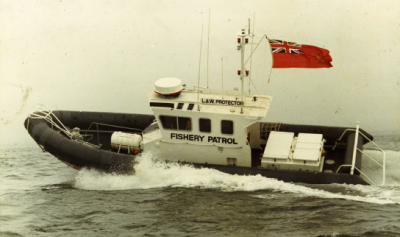 The L & W is accepted by the Lancashire and Western joint Sea Fisheries Committee. She remained in service to the committee until March 1996 when her replacement "Aegis" began service.
The Solway Protector Arrives in Workington
17th March 1989
The Solway Protector arrives in Workington to serve the Cumbria Sea Fisheries Committee. She became the main patrol vessel of the NWIFCA following it's formation and remained in service until 2018 when she was replaced by the North Western Protector and sold.
Aegis Named
10th July 1996
North West and North Wales Sea Fisheries Committee's (NW&NWSFC) new boat, Aegis, is named by HRH the Prince of Wales in a ceremony at Conwy Marina. She served with the NW&NWSFC until 2010 when that Committee and its staff were split into the temporary North Western Sea Fisheries Commitee and the fishery department of the Welsh Assembly Government. She is still in service with the Welsh Assembly Government today.
North Western and North Wales Sea Fisheries Committee Splits
1st April 2010
Following Welsh devolution the North Western and North Wales Sea fisheries committee splits. Responsibility for managing the Welsh fisheries is passed to the Welsh Assembly Government. North Western Sea Fisheries Committee's (NWSFC) jurisdiction spans from the English border in the Dee estuary to Haverigg Point in Cumbria. The patrol vessel Aegis is given to the Welsh Assembly Government, leaving NWSFC with no main patrol vessel until the formation of NWIFCA a year later.
North Western Inshore Fisheries and Conservation Authority is Formed
1st April 2011
Cumbria Sea Fisheries Committee and North Western Sea Fisheries Committee merge to become North Western Inshore Fisheries and Conservation Authority (NWIFCA). Cumbria Sea Fisheries Committees patrol vessel the Solway Protector becomes the Authority's main patrol vessel.
North Western Protector Named
25th July 2018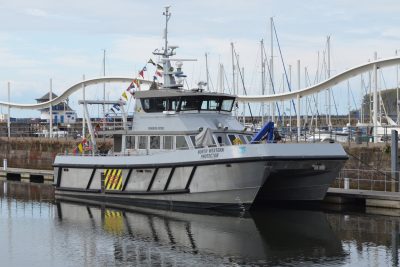 The North Western Protector is named by HRH the Duke of Gloucester, replacing the aging Solway Protector.