Marine Conservation Zones (MCZs)
The Marine and Coastal Access Act 2009 allows for the creation of Marine Conservation Zones (MCZs). MCZs protect a range of nationally important marine wildlife, habitats, geology and geomorphology, and can be designated anywhere in English and Welsh territorial and UK offshore waters.
Defra has taken the approach of designating MCZs in a staged process of different tranches. Tranche 1 (T1) sites were designated in January 2013, T2 sites in January 2016 and currently work is being carried out to publish a consultation on T3 sites in early 2017.
MCZs within the NWIFCA District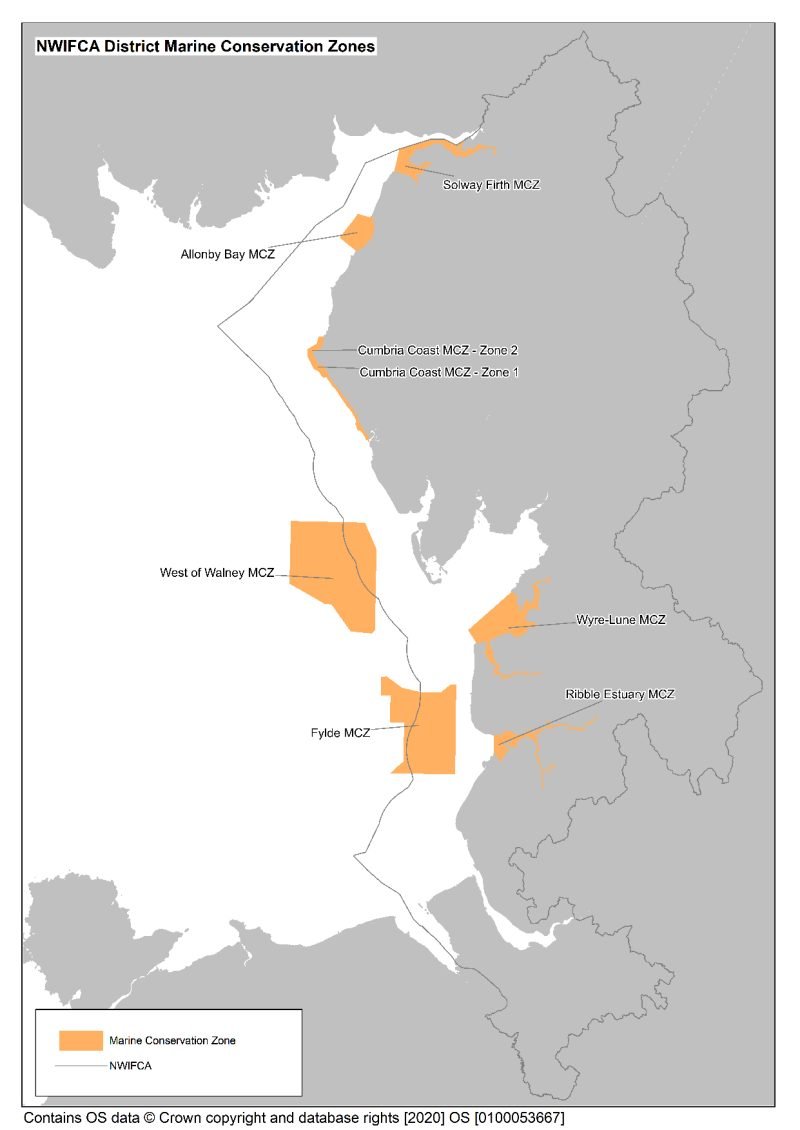 Cumbria Coast MCZ (T1)
Cumbria Coast MCZ is an inshore site that stretches for approximately 27 km along the coast of Cumbria. It extends from south of Whitehaven, around the cliffs at St Bees Head, to the mouth of the Ravenglass Estuary. The total area of the site is approximately 18 km². The surrounding area is particularly important for seabirds with an estimated 10,000 breeding seabirds thought to be present. The MCZ partially overlaps with a Site of Special Scientific Interest which protects seabird nesting areas. A variety of interesting intertidal habitats are also protected within the site.
Fylde MCZ (T1)
Fylde MCZ is located in Liverpool Bay, lying between 3 and 20 km off the Fylde coast and Ribble estuary. The MCZ protects an area of approximately 260 km². The depth of the seabed within the site ranges from almost being exposed on low tide (just 35 cm depth) to 22 metres at its deepest part.
The site was chosen for the extensive areas of subtidal sediment habitats as well as the plant and animal communities present.
Natural England have published an evidence report that can be viewed here: Fylde MCZ Baseline Survey 2015.
Allonby Bay (T2)
Allonby Bay MCZ is an inshore site on the English side of the Solway Firth. It stretches around 9 km from Dubmill Point in the north to just north of Maryport in the south. The site covers about 40km². A variety of interesting intertidal and sub-tidal habitats are also protected within the site.
West of Walney MCZ (T2)
West of Walney is a site in the Irish Sea, off the coast of Cumbria and to the west of Walney Island. The site covers around 388km², most of which is in inshore waters, but with a small section crossing the 12 nautical mile (nm) boundary into offshore waters. This site fills a gap in the network for mud on the seabed and sea-pen and burrowing megafauna communities
Potential sites for T3 are all estuarine and candidates for designation to provide protection to a little known fish called smelt:
Ribble Estuary MCZ
Wyre and Lune Estuary MCZ
Solway MCZ
More information and links to site information can be found on the Joint Nature Conservation Committee website.